Change can be scary, which is why moving into a new place, especially your first student apartment, can feel so overwhelming. The prospect of living in a new environment, being surrounded by new people, and taking on new responsibilities, might cause a bit of unease and uncertainty in most people. But, here's the good news: those anxieties will pass. Over time, you'll grow accustomed to your new environment and its circumstances as you begin to feel more at home in your new community. Even better, with the following tips from Athens Ridge, you can start feeling more at home and comfortable in your new apartment even faster.
Contact us today to schedule a tour of our UGA apartments!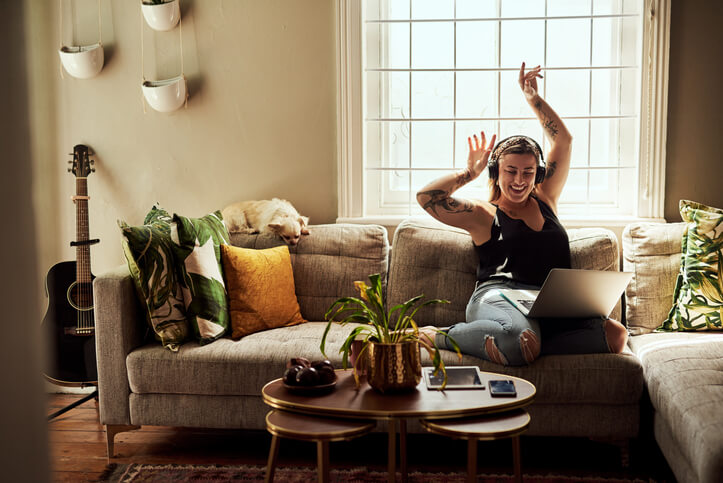 Decorate In Your Style
A new apartment is like a blank canvas; you get to fill it however you want. Everybody has a personal style that resonates with them. Imbuing your apartment with decor that matches your style and taste will genuinely make it feel like a space that's all your own. Conversely, if your apartment comes with an optional furniture package, such as our student apartments, that's even better! Moving into a furnished apartment means you can take the money you would've spent on expensive furniture and put it towards unique accent pieces and artwork.
Bring Sentimental Items With You
Part of the reason home is such a comforting place for most people is all of the good memories they have there. So, why not inject some of those homegrown memories into your new apartment? Bringing along sentimental items such as friends and family photos, a blanket knitted by grandma, or even a childhood stuffed animal can help promote a pleasant, warm-hearted atmosphere in a new apartment.
Stock The Fridge
Sure, home is where the heart is. But, more importantly, home is where all the snacks are. Not long after moving in, be sure to stock up on all your favorite foods and drinks. The sooner you stock your fridge and pantry with the essentials, the sooner you'll be able to kick back, relax, and enjoy a quality home-cooked meal.
Get Some Greenery
Plants have a natural beauty that aids in creating a relaxing environment. After all, people visit gardens just to unwind and bask in a peaceful, revitalizing atmosphere. To the same effect, you can sprinkle some greenery here and there throughout your new apartment to create an enriched and serene natural ambiance. Have trouble keeping plants alive? Though not as effective as the real thing, fake plants can still liven up a space and make it feel more natural and tranquil.
Lighten Up
According to Feng Shui, an ancient Chinese practice designed to harmonize individuals with their environment, regular exposure to warm light helps produce positive energy known as Chi. You can foster this positive energy in your home by replacing harsh fluorescent lights with bulbs that emit a soft, orange-hued glow. A well-lit apartment that uses ample incandescent light will naturally feel more inviting.
Acquaint Yourself With The Community
Many people don't just want to feel at home within their apartment walls but in their community as a whole. Get out there, meet your neighbors, introduce yourself to the apartment staff, and familiarize yourself with the community's unique facilities. Our apartments by UGA offer a myriad of fun amenities, such as a supersized hot tub, lazy river, basketball court, soccer field, and clubhouse where residents can easily connect with their community.
Hit The Town
After you've finished exploring your community, it's time to traverse your new town. Familiarizing yourself with your surroundings and learning where everything is will help you feel more at home in your new town or city. Walk around downtown with some pals and discover the new coffee shops, restaurants, stores, and entertainment venues that will be commonplace in your life here.
Have Some Friends Over
Possibly the best way to make a new apartment feel like home is to start making new memories in it right away. Not long after emptying your moving boxes, invite some friends and family over for an apartment-warming party! Make food, play games, do whatever it is that you love to do with those who are most important to you. You will undoubtedly feel much more comfortable and at home in your new place after hosting a party and making new memories with all your favorite people.